Purple Panama
Last year I was asked by Marvia Lawes, a female Missioner Pastor in Panama and very good friend of my familly to help with developing some websites she had ideas for. I was more than happy to help, however, last semester at school was very busy and as such I was not able to accomplish as much (far from it) as I had hoped. However, in the midst of all that was happening last semester, I was able to create a new theme for her Panama Journal. It's called 'Purple Panama'.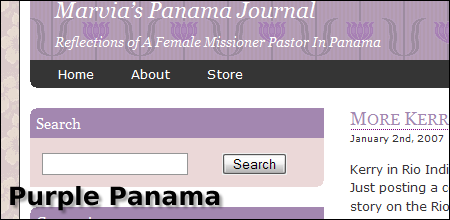 Ok, I know it may not be the fanciest of names, but in all honesty I really wasn't sure what else to call it at the time. Perhaps the name will change if/when I or Marvia thinks of something better but for now I think it will do. Its not perfect (well it never is) and there are a few fixes/additions I need to make here and there, but it was close enough to put live.
As for any bells and whistles, I wouldn't say there are any. I tried to incorporate a few of the techniques Dan Cederholm wrote about in his book Bulletproof Web Design, which was a very good book. If you are a Web Designer and haven't bought his books, go do so now. Yes, right now! Well…finish reading this post and visiting Marvia's blog and then you can go buy the book. I would also like to thank Travis Beckham for making some wonderful patterns that he has made available for others to use, two of which are being used on the site.
Ok so if you haven't noticed I'm really happy about the site. I mean it may not be ground breaking, but it's my first real and complete Wordpress Theme and Marvia is really happy with how it turned out. In all my happiness though, I have a little bad news. I'm afraid at this point I won't be releasing this theme for others to download and use. At some point it will be released, but for now I would like keep it only on Marvia's site and continue to refine the theme and make it better.
So I think I've talked a bit too much now and it's getting late here. I'd love to hear some feedback from you as to what you think and if you noticed anything that can be made better. Also feel free to give Marvia a shoutout and read her journal.